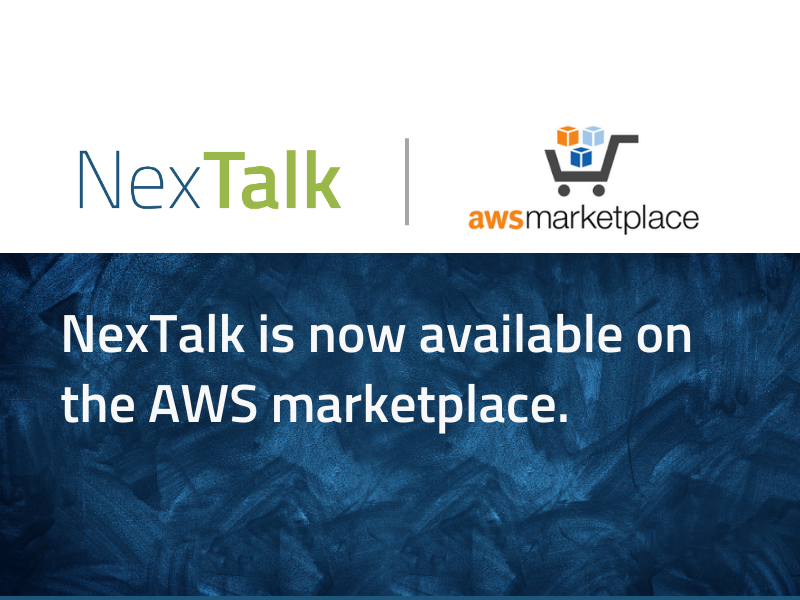 AWS customers can now deploy NexTalk in any call center environment to provide fully integrated TTY, RTT, and speech recognition solutions for Deaf and hard-of-hearing customers and agents.
NexTalk, the leading provider of ADA-compliant communications software, announced today the availability of NexTalk Access Contact Center in the AWS Marketplace. Amazon Web Services customers can now easily find and subscribe to NexTalk Access Contact Center in any environment - whether on AWS or on-premises - delivering enterprise-grade accessibility communication tools for all Amazon users.
"Amazon's leadership in cloud services creates will allow NexTalk to easily integrate with small and medium businesses who want to provide private, secure conversations for Deaf and hard of hearing customers," says Scott Cummings, NexTalk CEO. "We're excited about making it seamless for companies to integrate accessibility and privacy into their call center through the AWS marketplace."
This move provides existing AWS customers easy access to supporting their Deaf and hard-of-hearing customers by providing private, secure direct RTT/TTY communications in their contact centers and allows NexTalk to deepen relationships with those businesses and government agencies who prefer to access NexTalk through AWS. AWS customers will access customized pricing options that allow them to save money with long-term commitments and negotiate custom terms based on enterprise-level needs.
NexTalk on AWS marketplace solves key contact center challenges by providing:
Accessibility: NexTalk text-to-speech-to-text software operates in line with your existing call system turning your contact center into an ADA-compliant servicer of Deaf and hard-of-hearing customers.
Privacy and Security: NexTalk Access Contact Center eliminates the need for relay operators, enhancing conversation security and improving PCI and HIPPA data compliance.
Easy Implementation: The NexTalk web client operates alongside your existing technology stacks, creating quick, secure integrations.
AWS customers wishing to purchase NexTalk can do so in the AWS Marketplace.